Hendra virus infection is common to at least two species of flying fox in Australia and causes rare, but catastrophic, human infection. Loss of habitat has led to increasingly intense incursions of flying foxes into populated rural areas and the fringes of towns and cities, and promoted the 'spill-over' of Hendra virus into horses and then to people and domestic dogs. In response the government has funded the development of a vaccine for horses and has encouraged horse owners to change their horse-husbandry practices to minimize the risks of Hendra virus exposure. Ecological approaches such as flying fox habitat creation, protection and linkage could usefully complement existing measure to mitigate the risks of Hendra virus spillovers.  However the adoption of the measures could be controversial because they would place extra burdens on taxpayers and landholders.
Community juries are a lot like juries in a court room. They are made up of about a dozen people, who meet over two days. They hear expert testimony and then deliberate to make a decision about what they think is the right thing to do. The Community Jury process is an effective way to involve citizens in developing a thoughtful, well-informed solution to a public problem or issue. On the final day of their moderated hearings, the members of the Community Jury vote on the issues and present their recommendations to the public.
Who was in the Community Juries
We held three separate juries in Rockhampton (Central Queensland), Lismore (Northern NSW) and Sydney (NSW) between September 2017 and March in 2018.
Thirty one members of the public were recruited by a independent professional research company.  Juries were comprised of community members of a range of ages from diverse social and cultural backgrounds. People who own or interact with horses and non horse owners were represented on each jury.
A community jury is group of people (usually 12-15 individuals) brought together over a weekend to hear evidence about an issue from experts, ask them questions, discuss and deliberate as a group, and decide upon a set of recommendations. Community juries have been used around the world to engage members of the public in a structured dialogue with experts about how we should seek to resolve difficult or controversial issues.
The Questions put to the Juries
In Part A we asked jurors about the kind of strategies we should pursue to prevent Hendra virus infections in horses, dogs and people. In Part B we ask you about the obligations and responsibilities of people charged with responding to Hendra virus in horses.
PART A: Which of these options does the jury endorse? Government and other stakeholders should:
1. rely solely on the vaccination of horses and people adopting low risk horse husbandry practices to prevent equine, canine and human infection with Hendra virus
OR
2. in addition to horse vaccination and encouraging safer husbandry practices among horse owners, look to longer term ecological solutions to minimize the risk of Hendra virus spilling over from flying foxes into horses, humans and other animals.
PART B: Given the risk of human infection from horses with a Hendra virus infection, should veterinarians and other first responders be obliged to attend unvaccinated horses who have clinical signs consistent with a Hendra virus infection?
The Experts and the Evidence Presented to the Juries
Talk #1 Professor Michael Ward
Michael Ward is Chair, Veterinary Public Health and Food Safety in the Sydney School of Veterinary Science. He is a veterinary epidemiologist with experience in analytical epidemiological methods, spatial epidemiology and simulation modeling. He has 30 years experience in conducting research on infectious diseases, including West Nile virus in the U.S., FMD in Argentina, bird flu in Romania and rabies in Indonesia.
Michael is a veterinary graduate of the University of Queensland and has held positions within the Queensland Department of Primary Industries and the veterinary schools at Purdue University (Indiana) and Texas A&M University. He returned to Australia from Texas in 2008 to take up his current position at The University of Sydney.
To view Micheal's presentation please follow this link
Talk #2 Dr Ed Annand
Ed is an equine veterinarian who has practiced in Queensland, New South Wales, Victoria and the UK) and has taught at UQ and The University of Sydney. He is a member of the Australian Veterinary Association (AVA) and Equine Veterinary Association (EVA).
Ed has attended many horses suffering Hendra Virus (HeV)-like symptoms – testing on more than 20 occasions. In 2008, he managed a case considered a likely HeV positive case but for which testing was not performed. In 2013 he attended and facilitated the discovery of the first known cases of Australian Bat Lyssavirus (ABLV) in two horses. For his publications on the scientific implications of this he was awarded the EVA Norman Larkin Prize (2014). In 2014 Ed consulted Australian insurance providers on behalf of the EVA regarding the implications of unvaccinated horses with HeV-like symptoms being denied optimal treatment. Ed is currently undertaking a PhD at The University of Sydney investigating emerging infectious zoonoses with emphasis on bat-borne viruses and horses.
To view Ed's presentation please follow this link
Talk #3 Dr Mel Taylor
Mel is a Senior Lecturer in Organisational Psychology at the Department of Psychology, Macquarie University. Her research focusses on preparedness, response, and recovery to threats of relevance to national security. These are typically low probability, high consequence events such as pandemics, terrorism, emergency animal diseases, and disasters. Key areas of research interest are psychosocial response and recovery, uptake of biosecurity practices and health protective behaviours, and risk communication strategies.
To view Mel's presentation please follow this link
Talk #4 Dr Michael Walsh
Michael Walsh is an infectious disease epidemiologist with the Marie Bashir Institute for Infectious Diseases and Biosecurity at the Westmead Institute for Medical Research. He is interested in the complex ecologies of human and animal pathogens and their interaction with hosts, vectors, and environments in shaping landscape risk. As such, he explores complex etiologies using methods from traditional spatial epidemiology, as well as more modern applications of biogeography, ecology and data science to inform infectious disease inference and prediction. Michael is particularly interested in endemic and emerging zoonotic infections, and the ways in which interactions among wild and domesticated animals in anthropogenically altered landscapes enhance the potential for pathogen spillover from primary reservoir hosts to novel hosts. Michael has 18 years' experience as an epidemiologist and is currently investigating the landscape epidemiology of both Hendra virus and Ross River virus.
To view Mike's presentation please follow this link
More Information
A paper reporting on the verdicts of the juries in response to Part A can be found by following this link
Degeling C, Gilbert GL, Annand E, Taylor M, Walsh MG, Ward MP, et al. (2018) Managing the risk of Hendra virus spillover in Australia using ecological approaches: A report on three community juries. PLoS ONE 13(12): e0209798. https://doi.org/10.1371/journal.pone.0209798
A version of this paper specially designed of younger readers (see front page below) can be found in the Science Journal for Kids
The paper reporting the juror's response to Part B is currently under review. Details will be made available once it is published.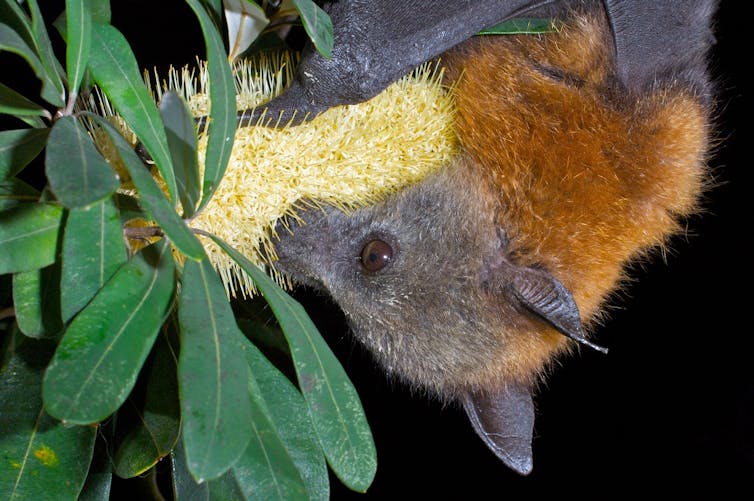 Image by Steve Parish